Lakshmi Shiksha Society was founded in the year 1986. The society has grown from strength to strength and has risen to be a centre of excellence. As per the proverb, Tomorrow belongs to the people who prepare for it today, the society aims at bringing to the tomorrow thought and action leaders from the younger generation of today. It is the belief of the Founder Chairman that imparting quality education is the best service that an organization can provide to the society'.

Glorians, the students of Glory school are a class apart from other young children of today.
These bright pupils are definitely headed to be the future of today and are the pillars of the
strength of the extremely fast growing society of today.
View the facilities Glorians have access to in the school.
Keeping strong foundation for a bright tomorrow!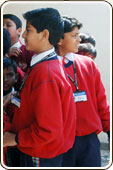 The students are given a wholesome and complete educational infrastructure for a balanced educational outlook. The activities apart from educational (debates, discussions) also include cultural and sports events that give an equal opportunity for every student to learn and to grow as a person.